6 Leads Electrocardiograph FX-7202
The new generation Cardimax FX-7202 presents advanced ECG examination capabilities.
The large and bright, touch-sensitive LCD screen enables the operator to have easy access to multiple functions in a compact, portable package.
The FX-7202 acquires the 12-lead ECG, and records ECG waveforms and measurements on 110mm wide chart paper.
The newly designed hardware, and the new ECG measurement program synergistically increases the accuracy in ECG measurement.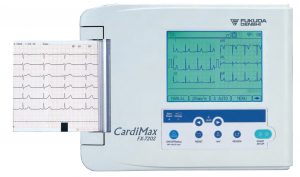 The operator can select a desired waveform recording format from a 3 or 6-channel, report. The Automatic Recording Mode allows selection from these as well as a 3-channel + 1 rhythm lead. In addition, a reporti
ng format for the measurement report or the optional ECG analysis report can be selected as required.
The FX-7202 comes standard with an internal memory.The memory stores waveforms and measurements for up to 128 examinations.
Included in the FX-7202 is a communication port, through which the unit can be connected with a personal computer for additional data storage.
An optional program cartridge provides the FX-7202 with an additional function to analyze ECG and arrhythmias. The automatic ECG analysis program written in this cartridge makes intensive use of ECG analysis technologies cultivated over many years.