VS-2000
The Future of Cardiovascular, Blood Pressure and Atherosclerosis Management. Blood pressure measurement is no longer a daily practice. Step up the caliber of your patient evaluations. By measuring arterial stiffness, you can know your patient's "Vascular Age".
FEATURES
Simplified Cardio Ankle Vascular Index (CAVI)
Ankle Brachial Index (ABI)
Toe Brachial Index (TBI)
Trolley or desktop mounted
Touchscreen color LCD user interface
12 Lead ECG waveform (optional with VSC-50 software and EE-100 module)
PDF preview and storage
Network shared file function
Data management: USB memory, SD card, or PC (VSS-50 software)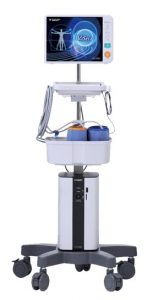 Dimensions:
Main unit: 178(W) x 181(D) x 315(H) mm
Display unit: 297(W) x 210(D) x 96.5(H) mm
Weight:
Main unit: Approx. 4.5kg
Display unit: Approx. 1.6kg
VSS-50
The VSS-50 data management software acquires, displays, prints, corrects, and manages the inspection data measured on the VaSera Series Sphygmomanometer and Sphygmograph.
SOFTWARE FEATURES
Data management can be performed for numeric data as well as waveform data (inspection data).
The VSS-50 system can be operated on up to 10 PCs. The data managed by one PC (Server) can be displayed on, or printed from other computers (Client).
Inspection data that is stored on the IC card can be registered off-line.
Examinee information can be acquired from the host computer and used on the VaSera series Sphygmomanometer and Sphygmograph.
Inspection results can be output in JPEG / PDF graphic file format.
Examination data can be entered from the result output file of examination devices other than VaSera series.
All VSS-50 data can be printed out or exported as a CSV file.
HARDWARE REQUIREMENT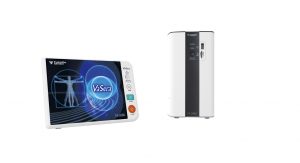 OS: Windows7 (Home Premium / Professional /Ultimate) 32 / 64bit
Windows 8.1 32 / 64bit
Windows 8.1 pro 32 / 64bit
CPU: Comply with the recommended system requirements of OS.
Memory: Comply with the recommended system requirements of OS.
Resolution: 1024 x 768 resolution or higher
High Color (16bit) or higher
HDD (Disk Space): Application 180MB, Data 10GB (100 thousand data)
LAN: Required for on-line registration of inspection data.